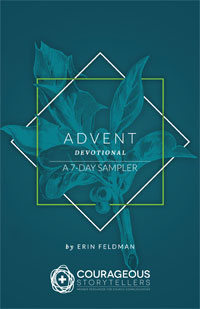 The turkey coma is over and it's back to work. Christmas is fully in sight now, and everything kicks into high gear. We know the feeling.
So take a moment.
Breathe.
Spend just 10 minutes in quiet time. Let the craziness of the season fall away and hear the voice of God. Be renewed as you approach your Christmas task list.
Dive into the Bible. Take a breather. Do whatever you need to do to avoid burnout.
We've got a 7-day Advent devotional you can use:
God uses all sorts of people to accomplish his aims, and all of them are messed up and broken. They struggle with doubt and fear. They question. Some start well and falter midway (David). Others start well and end terribly (Solomon). Some people start terribly and finish well (Saul/Paul). But God works through them and us because, when it comes down to it, God is God. He loves us because of who he is (Deuteronomy 7:7-8), not because of who we are or what we can do.
Download the Advent Devotional now.
(Big thank you to Erin Feldman for writing and Laura Bennett for designing this Advent devotional.)
More:
We offer resources like this all the time on our Courageous Storytellers Membership Site. In fact, there's a 22-day version of this devotional available for you to share with your congregation. Learn more about Courageous Storytellers.