Christmas is coming up fast. With all the things you have to do for your church, keeping the buzz going on social media shouldn't be one of them. We've got a free social media Advent calendar to help you.
"For to us a child is born, to us a son is given." (Isaiah 9:6)
It's 25 social graphics featuring Bible verses and a countdown to Christmas.
Take advantage of the countdown and post one every day leading up to Christmas.
Or if that's too much, we included a set of graphics without the dates and countdowns, so you can just post your favorite verses whenever you need them.
They're available in square and landscape formats.
Get our social media Advent calendar and check one more thing off your Christmas list.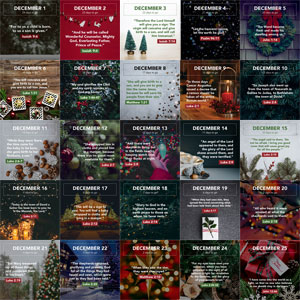 More: