Sometimes people working in the church need a good laugh. So say hello to Church Curmudgeon on Twitter. If you're anything like us, you probably enjoyed it a little too much.
And we've got good news: Those funny tweets now come in book form, with the release of Then Tweets My Soul: The Best of the Church Curmudgeon. If you're looking for a gift for your church co-worker, this might be it. (Buy now!)
As a bonus, Courageous Storytellers members can get a free excerpt for a limited time. (Join now!)
Black Sunday special! Church attendance is 50% off!

— Church Curmudgeon (@ChrchCurmudgeon) November 26, 2017
We sat down with the curmudgeon behind the tweets. Turns out it's David Regier, a worship leader at a Baptist church in California.
The Church Curmudgeon tweets seem to land an awful lot on worship leaders with skinny jeans and drummers. Since you are a worship leader, we have to ask if this is autobiographical or self-deprecating? 
I'm pretty much past the age where skinny jeans are a viable option, but I've been leading worship long enough to be guilty of a lot of the things I make fun of. My drummer is my son, so he has to laugh at my jokes if he wants dinner.
The church doesn't always do so well with humor—unless it's bad puns from the pastor. Why do you think it's worthwhile to poke fun at the church and laugh?
The church is made up of people, and people are funny. First off, it's best when it's done in love, and I love the church. Second, people who can't laugh at themselves are pretty funny, and it gives the rest of us something to laugh at.
Could comedy be an untapped approach to communication for churches? Or is that just a minefield of bad ideas?
I think trying to put together some kind of method or program for churches to use comedy for communication would be the worst idea I could imagine. So that in itself would be pretty funny, but not in the way intended.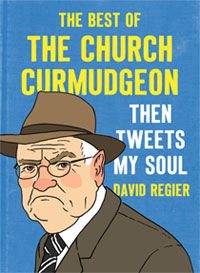 Every church seems to have its own curmudgeon—how do we deal with all that negativity?
By loving them, sitting down next to them at the potluck, and hearing the stories from their lives. They're whole people. That's why I started this account in the first place, because I had experience with them.
More: