Last fall we started collecting Church Visitor Horror Stories to celebrate our book, Unwelcome: 50 Ways Churches Drive-Away First-Time Visitors by Jonathan Malm. It's been scary stuff. But hopefully we can learn to be more welcoming.
The Invisible Visitor
While searching for a new church home, we visited a large local church known to have a vibrant community and lots of good involvement with youth (something important to us at the time).The church had a large open room at the front, with small high tables scattered around, and looked really nice. But not one person spoke to us during our entire visit.

We are a rather outgoing family and stood around before the service in this wide open area, looking lost, as people bustled about from here to there chatting with people they obviously knew well. We even tried a couple of times to catch people to ask a question or two, but they breezed past as though we were invisible. The pastor also clearly had more important conversations going on. We waited a while to meet with him, but after 15 minutes on one or two conversations he never had a free moment to introduce himself.

Everyone left immediately after the service, and no one lingered to chat.

To put the best face on the experience, I decided this just wasn't the right place for us. The next church we visited welcomed us warmly and with the perfect level of helpfulness without seeming pushy. The pastor also made a point of stopping to say, "Hi," after the service, being available while also chatting briefly with many people. –Angie Shoaf
This story is all too common: A big church doing good stuff that's too preoccupied to welcome new people.
If welcoming visitors isn't important to your church's leadership, it won't be important to anybody.
The Solution
It takes intentionality to create a welcoming environment. It doesn't just happen. Your church needs to work on being welcoming.
Start at the Top
That work of welcoming starts at the very top. If welcoming visitors and making time for new people isn't important to your church's leadership, it won't be important to anybody.
Pastoral Priority
This can be tough for pastors. Everybody wants a slice of the pastor's time, but a good pastor needs to learn how to keep conversations short and allow time to welcome guests. This might mean making long time members wait or even (gasp) make an appointment. Yes, you might offend some crusty old congregants. But they need to get over it. If they're more concerned about their own face time with the pastor than a guest feeling welcomed, then they probably do need a pastoral appointment to talk about their priorities.
More: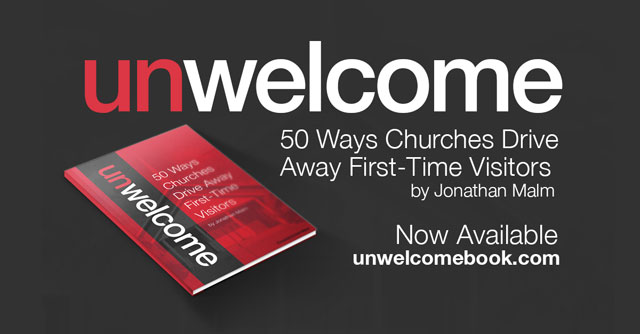 Photo by Tommy Clark.