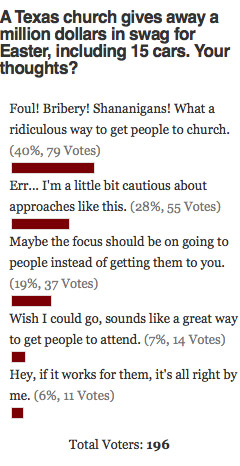 You've heard it a thousand times, and it's probably nails on a chalkboard at this point. But here goes, anyways: everything's bigger in Texas. One church is doing their best to prove the old platitude true. They gave away a million bucks in swag for Easter Sunday under the assumption that if you build it, they will come. From Fender guitars to TVs to Jaguars.
So what do you think, great marketing strategy or ridiculous scheme?
Well, 40% of you were downright offended. You think this is a ludicrous way of getting people to church and likely worry about what will happen once they get there. And just slightly less, 28%, are a little cautious of approaches like this. You aren't ready to say that it's an outright shame, but you're not sure it's a good idea.
The last of the disagreers? That'd be the 19% of you in the fundamental disagreement pile that think you should try and go to others instead of luring them to you.
Only a meager 13% of respondents were in favor of the mega-giveaway. Split right down the middle, half of these were feeling fairly laissez-faire about the whole thing, and another half just wish they could have won the Audi.
This week, we're exposing the copycats and asking the question: Where does your church get its marketing ideas from most often?