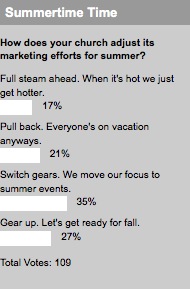 Saturday is the first day of summer, in case you were unaware. Here in the southeast, it's a little discouraging that most days are in the 90s, but it's still spring. But hey, despite the hot weather, church marketing must go on. Or must it?
Half of you don't think so. You're already thinking about back to school, endorsing a presidential candidate without losing your tax exemption, Halloween alternatives and getting ready for Christmas shopping. Or the summer has heated up and church marketing has gone to the beach for a needed vacation.
The other half of you, who might or might not be our favorites, aren't missing a beat, just shifting into overdrive. You might be keeping on doing what you're doing, or maybe you're moving to pump up your summer events. But you're taking no prisoners and making sure your whole community knows about your church and what you're doing this summer. It's summer push time for you.
For this week, we're investigating where in the heck all those visitors come from. Click through your RSS reader to tell us: At your church, about what percent of visitors first come when they're invited by a friend?