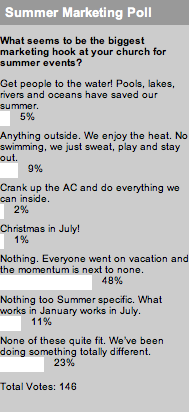 Last week 150 of you weighed in to tell us how your summer church marketing is going. We asked you what has been the most successful method for marketing through summer events. Here's what you said:
48% of you haven't had any success. People are gone, momentum is gone, and energy is gone. For the other 52% of you, how do you combat this? What are you doing to keep the energy alive?
23% of you are doing something totally different. None of what we said quite fits. And another 11% of you aren't doing anything summer-specific. You keep the same types of events year-round. Nothing wrong with that; if it works, it works.
9% of you are staying outside in the heat. Heck, it's only summer once a year, so you might as well get out and stay hot, right? Another 5% of you are using the summer heat as an opportunity to cool off by going swimming. Whatever body of water it might be, you're getting in it to keep the momentum high.
Finally, 2% of you are cranking up the AC and staying inside. There's something nice about walking in from the heat into the cold air. A final 1% of you are celebrating Christmas in July. Who knew that was real, anyways?
This week, let us know what you think of the top X lists that come out. Do you trust them? Do you like them? Weigh in.