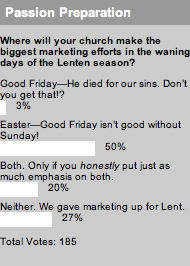 With five days left until Easter, we have our Passion Week poll hot of the press.
Surprisingly, only 3% of your churches place their strongest focus on Good Friday. I expected Friday night Passion plays and the convenience and opportunity of Friday (as opposed to Sunday morning) would drive this number higher. I imagined wrong.
The majority winner is the 50% of you whose church places the most marketing emphasis on Easter. I can't say enough about how great Easter is, so kudos to you guys.
20% of you really emphasize both equally. There's something great to be said about this, as the two events must both exist for Christ to be Lord. And let's never lose the history and true meaning of Passion Week.
Finally, 27% of churches in our incredibly reliable and extremely scientific poll gave up marketing for Lent. I don't think Jesus did much marketing in the wilderness for 40 days, so I think you're following a good strategy!
This week, we look at the flood of recent billboard campaign news and see what our loyal readers think is the way to go.
Lastly, what exactly is your church doing for Easter and Good Friday? Easter egg hunts? Pictures with the Easter bunny? A mock funeral for Jesus? Comment now!