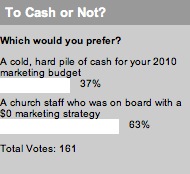 As a commenter aptly noted, this week's question might not have been totally bulletproof. But hey, we're in this for the fun, not the science. We wanted to know if you'd prefer a huge pile of cash for your 2010 budget or a staff who was on board with a $0 marketing strategy.
Danielle Hartland wrote for us a few weeks ago the benefits of a $0 marketing budget and the benefits they've seen so far. The long and short of it: quit advertising, lean heavily on your web presence and help people tell their friends.
But what say you, faithful Church Marketing Sucks readers?
Surprisingly, 63% of you would prefer a church who was on board and supportive with a budget of big, fat zero. You want a team that will support this and push forward towards more strategy with less cash.
And the math wizards out there already know that 37% of you would prefer mounds of money to throw towards advertising, ramping up your graphics and more. In the comments, feel free to let us know how you'd spend your piles of money.
We're going to get a bit nerdy this week. Vote on our home page to let us know, which tech item is highest on your church's wish list?