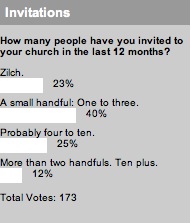 The question is a little bit awkward, and it can feel like you're about to get in trouble. "Have you invited anyone to church recently?" For me, memories of youth group surface, where your Christian street cred was based totally on the number of popular kids you were bringing to church.
But the painful reality is, many of us don't actually invite friends and family to church. We decided to do some investigating. Keep in mind that our audience is a group of church marketers–people fundamentally concerned with getting the word out about churches.
23% of you haven't invited anyone to church in the past year. That's not to belittle you or anything of the sort. Maybe you're trying to help your own church get to an "invitable" place. Or maybe you're working on discipleship on a more personal level.
The biggest chunk of you have invited someone a small handful of times. That's nearly half of you who are inviting at a clip of one person every few months.
Next, we're headed to the super-inviters. A quarter of you are inviting four to ten people a year, and 12% of you are going over ten a year. That's pretty impressive–sounds like you're either the pastor of your church or have a church you're really excited to bring guests to.
So let's hear it in the comments–what is it that keeps you from inviting people to church?
I'll start: I don't slow down enough during the day to talk to people and build relationships that get to a point where I could invite someone.
Your turn.