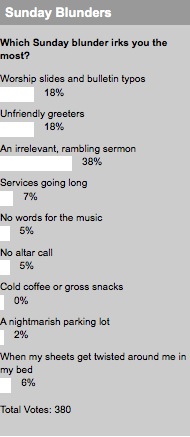 You guys are passionate about screwing up on Sunday. Well, not screwing up on Sunday that is. Nearly 400 of you let us know what irks you most when churches drop the ball on Sunday morning (or whenever your services are). And here's what you had to say:
Not a single one of you fears cold coffee, stale muffins or leftover donuts. Whether you haven't experienced it or just don't mind, I can't answer. Only a hair more of you, 2%, are aggravated by the nightmare known as the parking lot.
The next most aggravating blunders are long services, no words for the music and not having an altar call. Each one is just a handful of you, and each has its place. I've heard people go so far to argue that long services indicate a character issue with the staff, bad parking lots have been the subject of entire sermons, and Craig Groeschel gives a great defense of the "no altar call" group.
After that, we get into the big groups. 18% of you are most troubled by unfriendly greeters. A great example of your vote is in the What if Starbucks Marketed Like a Church video. Bad greeters can seriously dampen a church visit.
Another way to irritate 18% of you is to keep those "Were glad your hear" and "I know that my Redeemer lies" in your bulletin or on your screens. If it looks like the Chick-fil-A cows wrote your Sunday materials, you've got a good one in five people irritated.
But the clear winner? An irrelevant, rambling sermon. Even after all these year and Sunday inventions, folks are still coming back for the sermon. And if you're lasting an hour and a half on your sermon about the biblical evidence against dancing, you're losing your crowd.
This week, we're pushing a hot topic: Can church marketing issues be put into worldly business terms–consumers, product, price, sales, etc.?