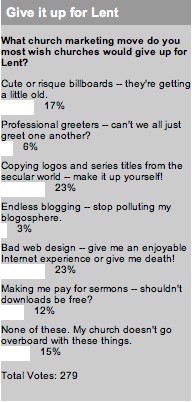 We put together a little list, and we wanted to know which church marketing move you wanted your church to give up for Lent. Your results were all across the board. Here's what you had to say:
The top two answers were the 46% of you who either most wanted to get rid of bad web design or brand theft. You're tired of web sites that look like this (Pepsi site circa 1996, courtesy of the WayBack Machine) and series called "True Values" and "iGod." It's OK, we feel your pain.
Another 17% of you are tired of every church and their brother plastering billboards that say "Best sex ever" or "[Insert phrase] -Satan" or "God answer knee mail." For the record, we post them here for inspiration and to push the envelope, not for the express purposes of plagiarism. We won't knock it if it gets people in and gets people's lives changed though.
12% of you are fed up with paying for sermons. You want your downloads to be free, otherwise you're about to turn to church sermon piracy. Another 6% of you are ready to be rid of professional greeters. It seems a little bit contrived to you. And a final 3% of you are tired of endless blogging. I wonder if this is because of not too many pastors trying blogging or just a few pastors being great at it.
And then, of course, there's the 15% of you whose church doesn't do any of these. Congratulations! Feel free to vent your frustration with other, unlisted church marketing offenses in the comments. This week we ask what you call your Sunday morning, um, event.