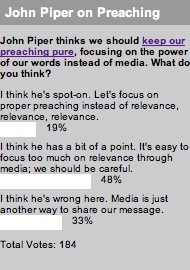 Recently, John Piper came down on extracurricular activities during sermons. It ignited a great debate in the comments, so we wanted to break it down into some totally unscientific data to pretend we have a better idea of how our audience feels. Here goes:
48% of you are cautiously in agreement. Sometimes we can get carried away with our interpretive dancers and Braveheart clips mid-sermon. But other non-speech activities can be beneficial sometimes.
33% of you think he missed the boat, probably somewhere shortly after he came up with that "God is most glorified in us when we are most satisfied in Him" line. Seriously, preaching gets bo-o-o-ring; let's get some snazzy media in there.
And a final 19% of you are in total agreement with him. You're tired of all this chatter about Twitter during church and all the hullabaloo of the newest media fad. Let's just focus on great teaching, and let the rest take care of itself.
This week, let us know, what do you think of when you hear of church traffic jams? We'll have the results for you this time next week!