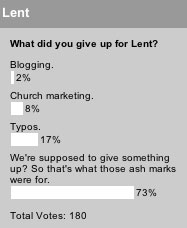 Last week we asked what you gave up for Lent, and the majority don't seem to be familiar with the practice of giving something up for Lent. Not too surprising.
Typos came in a distant second, though I don't think we'll ever be able to give up typos. Admittedly not our best poll ever.
Moving on. This week we ask about the Xbox church postcard we saw last month. Early results put "Lame" out front with two-thirds of the votes.