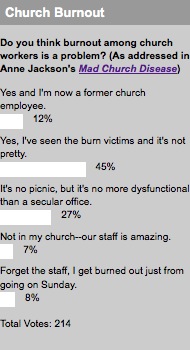 Recently, we talked with Anne Jackson about her new book Mad Church Disease. She was involved directly in church communications when she found herself in the hospital dealing with stress-related illnesses. Most of you probably haven't wound up in the hospital, but we wanted to know if you've experienced church burnout.
A whopping 12% of you are now former church employees due to burnout. That's over 25 in our meager little poll; I think that says something about how big this problem is.
45% of you have seen the burn victims, and it's not pretty. We've seen them too, and we agree. But another quarter of you say that these burns are no worse than those you've seen in secular offices.
The blessed 7% of you are lucky enough to have an amazing staff culture that hasn't sent you reeling. And a final 8% of you get burned out just from being stuck at church for an hour or two on Sunday mornings.
We'd love to hear in the comments how your church has successfully fought against burnout or things that have really left you empty. If you want a more professional prescription, make sure to order a copy of Anne's book.
This week, we want to know how your church would respond to a Hooters moving in next door?