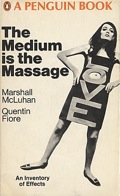 This week's Monday Morning Memo (you can also listen to it) from Roy H. Williams takes issue with Marshall McLuhan's famous line, "The medium is the message." I, too, have been at odds with this oft-used McLuhanism, especially when guys I respect are so high on it. Branding Faith author Phil Cooke and recent Q conference presenter Shane Hipps are two recent examples of people I've run into that echo McLuhan.
Roy H. Williams says that McLuhan's "the medium is the message" is at best a Japanese koan. In other words, "a silly attempt to sound profound."
Williams says "Enough. The medium is the medium. The message is the message. Ad campaigns don't fail because someone chose the wrong media. Ad campaigns fail because someone chose the wrong message. The job of the media is to deliver your message. Your job is to give the media a message worth delivering."
Although I've tried, I couldn't have said it better myself.
Free bonus: The rest of the Monday Morning Memo from Williams is a comparison of nine different mediums. Good stuff.