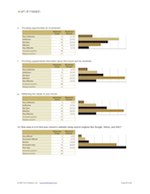 Version 1.0 of The Art of Mission's Church Website Survey was recently released. The results of the survey are available for free, and a second version is in the works as you read this.
The first version is essentially built around the question, "How satisfied are you with your church web site's …" As a result of this, the answers you'll get are indicators of what churches are doing, not necessarily how successful they are.
That doesn't mean, however, that you won't get valuable information from it. You'll be able to see things other churches are doing as well as things churches are doing that folks either are or aren't satisfied with.
There's only about 130 respondents in version 1.0, so don't use the stats for your water cooler debates just yet. But do head over to Art of Mission, read the results and get into version 2.0 to help churches communicate better.