A few weeks back we conducted a quick survey about church communication events for 2014. Our entirely unscientific survey gives some good insight into events this year.
The short version of the results:
A majority of people will attend an event this year.
Catalyst, Story and Creative Missions are the most popular events.
Content and cost are the primary factors determine what events people attend.
The longer version of the results:
Are You Going?First we asked if people are planning to attend any type of church communication event this year. Overwhelming people are either planning to attend or thinking about it. 46% said they were planning to attend and 44% were unsure.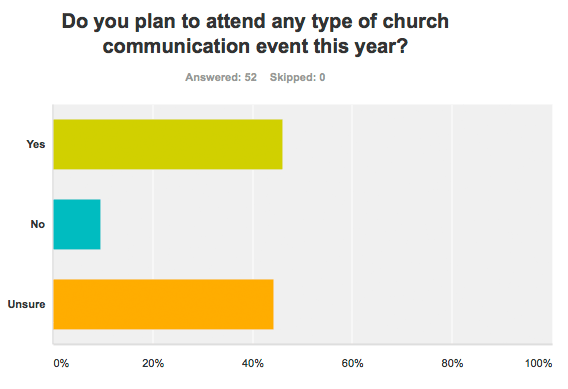 What Event?
Next we asked what event they were planning to attend. Results varied here, but the top choices were clear:
How Do You Choose?
Finally we asked what the determining factor is for how people choose what events they attend. Content at 42% and cost at 33% were by far the biggest factors.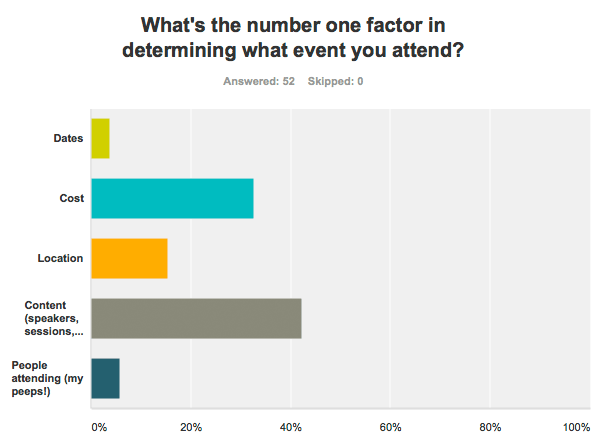 More:
Want to learn more about any of these church communication events? Check out our Events Calendar for dates and links.
Like events but don't want to travel? Learn more about Local Labs.
Are you planning to attend an event this year? Share a comment below.
Photo by Chuck Scoggins.