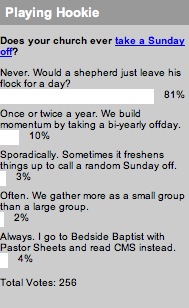 Nothing like a bad poll question to spice up the beginning of the week. Perhaps I should have asked something like "This site is named Church Marketing Sucks. True or false?" Good question or not, here's what you said.
81% of you don't skip a Sunday under any circumstances. The faithful majority, if you will. Do you never skip because you've done it, and it's failed, or you've just never tried it? Check out cancelchurch.com for a story of one church where it worked. There's also our story about a church that quit for the summer.
As far as the rest of the answers go, 10% of you skip a Sunday every now and again. You look to spice things up, build some momentum or get some rest. Have you had success doing this?
3% of you skip a Sunday sporadically, but more than once or twice a year. I've heard great stories of churches doing this before, but it becomes a little tougher as your church grows.
2% of you meet more in small groups than a large group. I'd assume you guys are in networks of house churches or things as such who get together to worship and celebrate every now and again. A viable alternative to mainline churches for many people.
4% of you are church skippers. I'm not gonna bust any chops over that here; we're glad you're checking us out and seeing how church marketing sucks; best of luck in figuring out a solution to the problem.
This week, we want to know what you think of franchising church.