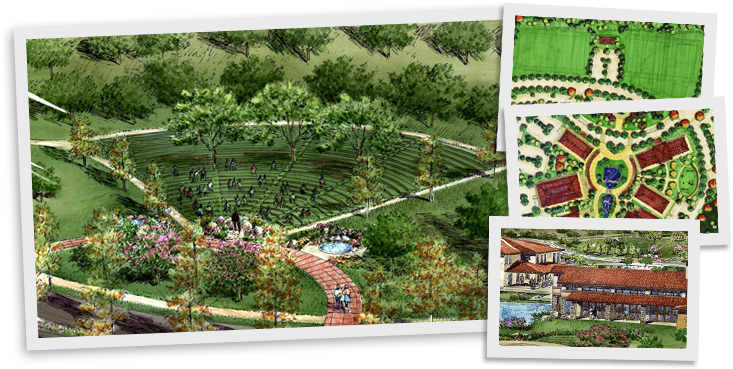 Well, we've discussed whether church buildings suck before. We've talked about whether you put a little money or a lot of money into a building. Here's a new one: Don't have a building.
That's what Cornerstone Church is doing. They're a megachurch in Simi Valley, Calif., who hit a spiritual brick wall. As they prepared to build a $60 million 'Chan-ville' (the words of lead pastor Francis Chan), they were struck by something outside of themselves.
The long and short of it is that Pastor Chan was troubled to the point of taking a three-month sabbatical. At the end of that three months, he realized that there was more to life than having a totally sweet building. And that's how the Tierra Rejanda Building Project began and the idea of having church outside.

Here's the quick and dirty on the new site.
140 total acres of land purchase.
5,000 seat outdoor auditorium for Sunday services and Eternity Bible College use.
1,000 seat multi-use indoor facilities with restrooms, classrooms, a chapel and more.
5 acres of community athletic fields for use by Simi Valley community.
10 acres for the Children's Hunger Fund.
80 acres of preserved hillside not to be developed.
What could have inspired such a move? Well, Cornerstone explains that it's not about having church outside, it's about a mindset. They want to escape a consumer mindset and a mindset of comfort in the church in favor of a mindset that cares for the poor and oppressed — in their community and in the world.
Francis described at the Catalyst Conference that he looks to move past comfort and ease into a life of sacrifice for the sake of the things that are truly important. The millions of dollars they save will now go to the community of Simi Valley and to the worldwide poor.
Personally, I love being outside anyways. Buildings are so stuffy.
Maybe it's church marketing brilliance, and maybe it's a disaster waiting to happen. Either way, I think it's a relentless desire to be like Jesus, and I don't think you can discredit that.