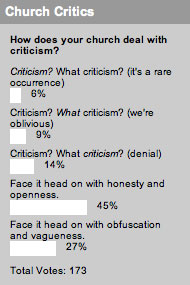 Last week we asked how your church deals with criticism. An amazing 45% said their church tackles criticism head on with honesty and openness. 27% said criticism was met with obfuscation and vagueness, which was more of what I expected. 14% went with denial, 9% with oblivious and 6% said it's a rarity.
Assuming our extremely scientific polling methods can be trusted, this is probably encouraging news that churches are getting better at dealing with criticism.
This week we ask what "ministries" churches should consider dropping.