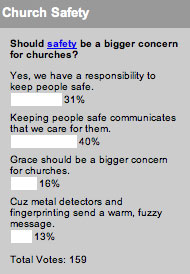 Last week we asked about church safety, prompted by news of a church hiring sex offenders. 71% were up on safety, with 40% focusing on what safety communicates and 31% focusing on a church's responsibility. Only 16% thought grace should be a bigger concern.
While it's an entirely non-scientific poll, the results shouldn't come as any surprise after the recent glut of abuse cases against clergy. Churches simply have to be concerned about safety.
This week we want to know what you want in your events. So far 'content that matters to me' has the lead with more than twice the votes of any other option.