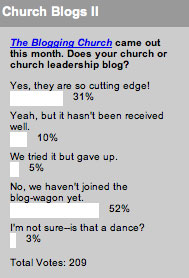 A little more than a year ago we asked about church blogging. Since the book The Blogging Church: Sharing the Story of Your Church Through Blogs by Brian Bailey and Terry Storch came out last month we thought we'd revisit that poll and see how the numbers have changed.
The result? Blogging is definitely increasing in usage. 31% of your churches are blogging, up from 21% last year. There are still 52% who haven't jumped on the blog-wagon yet, but that's down from 66% last year. More folks have also tried it with mixed results: 10% have a blog that hasn't been received well (double last year's 5%) and 5% have given up a blog (up from 4% last year). And this time around only 3% didn't know what a blog was, down from 5% in the previous poll. So the blogging is definitely spreading and hopefully doing some good.
This week we're asking what lessons can be learned from the church Super Bowl controversy. Sorry, Super Bowl™.