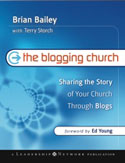 Brian Bailey and Terry Storch have put together a book that's near and dear to our hearts. It lays out the why and the how of church blogging. We're big fans of blogging, in case you couldn't tell (I've been at it personally since 1998). It's a natural tool for a community-based organization like the church, and its tendency for open, honest communication makes it a valuable antidote to the misconception of churches as weird, unfriendly, judgmental, hypocritical, corrupt or whatever negative adjective you've heard.
If you're looking for a new way to communicate about your church–whether you're a pastor, staff member or lay person (OK, it doesn't directly address lay people, but lay people like me can recommend it)–The Blogging Church is for you. It includes helpful interviews with pro bloggers like Robert Scoble (author of another book on blogging), Kathy Sierra and Guy Kawasaki, as well as church bloggers like Mark Batterson, Perry Noble, Craig Groeschel, Mark Driscoll and Tony Morgan–oh yeah, and us. We should probably say up front that we're interviewed in the book (page 75, in case you're wondering) and mentioned a few times as an example.

I think churches need to find ways to stop behaving like ancient organizations and start connecting with people. This isn't the way you've always done it, but that doesn't mean it can't work. This book answers a lot of the questions and can help you figure out if blogging might be for your church and then how to make it happen.
As much as I like the book and did recommend it to my pastor, it does have a few faults, like the fact that like any tech book it will become quickly dated. But I think its most notable fault is the readability. It reads somewhat awkwardly. It's not obvious or horrible, but it was something I couldn't put my finger on that nagged me throughout my reading.
But the overall message and advice is one pastors need to hear–you need to share the story of your church, and blogs can help.