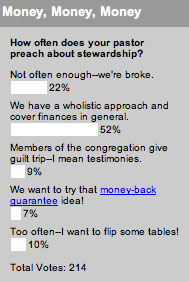 Last week we asked about stewardship, the dreaded sermon series topic of choice in October. 52% have a holistic approach and cover finances in general. 22% apparently need to talk about stewardship more. 10% hear it too much (I wonder if that number would be a lot higher if we asked a general audience). 7% want to try that money-back guarantee idea.
An interesting spread of responses overall. Not nearly as much table-flipping rage as I expected (which is probably a good thing).
This week we ask where church plants should first spend their money.