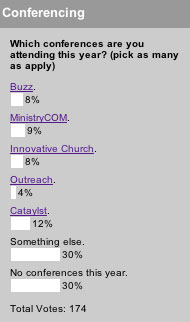 Last week we gave a selection of church conferences to see how many people are going. And the big winners? Something else and no conferences this year tied with 30%. Apparently we're missing out on some of the good conferences (not me, I get to attend vicariously).
Of the conferences we did mention, Catalyst seems to be drawing the most people, which shouldn't be a surprise since it's probably the biggest of the five we listed.
This week we ask if you're a member of the Church Marketing Lab, our church communications critique group that replaced the peer reviews of old.
For as much as I've talked about the Church Marketing Lab–making a splashy announcement, following it up with mentions in at least four separate entries, doing a round up post every Friday, sending out multiple e-mails to our various lists, mentioning it at the bottom of every e-mail I send, and personally inviting loads of people–apparently it's not enough. Early results show a whopping 70% either don't know what it is or have some excuse for not checking it out. Only 10% are actively helping church marketing not suck.
So far. It's still early in the week. You can turn things around. Why don't you do me a favor and go check out the Church Marketing Lab before you vote. You can help church marketing not suck and make me feel better at the same time. Everybody wins.