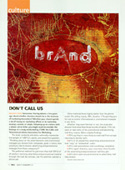 I found in my stack of clippings a one page ditty in Rev magazine. The column-esque heading at the top left read "culture" and floating in the middle of the page was a large colorful graphic that read: "brAnd." (See photo inset for full view.)
Naturally, I thought this was going to be a quick take on branding and how it relates to the church or some other useful nugget a pastor (the primary audience of Rev) could apply to the subject.
I should have known better than to think Christiandom would get it right. There are some useful takeaways, but it is all about direct mail. Yep, direct mail works. I wrote an entry last month, citing a study by Pitney Bowes. Rev cites what appears to be a more legitimate study by the Cable & Telecommunications Association for Marketing. Their results?

In a survey of 1,077 U.S. adults, the question was, "Thinking about all the advertisements and promotional messages you receive from companies, given a choice, how would you like to receive advertising and promotional messages from these companies?"
75% say they're more likely to read mail from companies they are familiar with.
47% of all people find advertising and promotional mail "very" or "somewhat" useful.
31% wish promotional mail would stop completely.
21% report that they open more than three-fourths of the advertising and promotional mail they get.
23% don't open any promotional or advertising mail they receive.
Thanks, Rev, for providing this helpful information. But next time, please don't confuse advertising and promotion with branding. They are not the same. Words are big. And when they play to the psyche of uninformed pastors to the tune of marketing buzz, it can be misleading.
I look forward to the day when pastors really understand marketing, branding, advertising, etc. It would behoove us all to help that process.