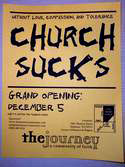 We got an e-mail the other day about a fun church marketing story. Ryan Haack is involved in planting a new church in Madison, Wisc., the Journey, which will open its doors December 5.
They began plastering the community with promotional flyers (see photo inset for full view) with small lettering across the top that said, "Without love, compassion and tolerance," and then in huge letters: "Church Sucks."
The response came the same day with a call and an e-mail from a local professor, complaining that if they were really Christians they'd take the signs down, according to Ryan. The professor threatened to file a formal complaint and alert the local paper, though commented that more attention is probably what they wanted.
"Uh yeah," Ryan wrote in his email. "That's what a flyer is supposed to do, right? Get attention?"
We haven't received any independent confirmation of the story, so it's best to keep an open mind, but the scenario itself is worth considering.

Ryan and his fellow church planters seem to be trying to launch a church that can reach out to a different demographic, one that's not likely to be enthralled with church. As such, they're trying to get their attention with a flyer that seems to say that church sucks. On closer examination, the flyer is instead rejecting forms of church that lack love, compassion and tolerance. The message is clear: those forms of church suck, we want something more.
It seems like a good message, a practical example of an earlier discussion on this site about T-shirts with a similar message. It's certainly bound to offend some people, particularly those like the local professor who maybe don't understand the attempt to reach out to those who dislike the church.
I particularly like the acknowledgement from this group that church isn't perfect. If it's not done right (and let's face it, we can't ever manage to get it right) it sucks. It brings me back to my favorite refrain, that we're a broken people and we make for a broken church.
At the same time, it's important to be clear what you're saying. The message is not that church sucks. Perhaps the rest of the flyer should have been more affirming of that message, I don't know. Brad Abare said the other day that we didn't call this site Church Sucks because that's not what we believe. As broken as the church is, and as much as it can suck as I just said in the last paragraph, the church is also how God has chosen to work in this age, and as such it definitely doesn't suck.
I would hope a flyer like this would draw people in to discover a church that doesn't suck. It may offend a few church faithful, and hopefully that can be avoided and mitigated if it happens, but if it brings people to Jesus, more power to them.