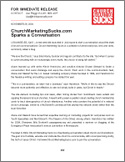 Today we sent our second press release announcing an alternate address, ChurchMarketingStinks.com. It's an effort to serve Christian publications that have a policy against printing controversial language (you can also read our more in-depth rationale for using 'sucks'). The release is going out to nearly 300 news and media contacts all around the country.
So far we've had a great response to Church Marketing Sucks and we appreciate your feedback and enthusiasm. Thanks!
---
FOR IMMEDIATE RELEASE
CONTACT: Brian Zopf 213-201-1800 x220
Brian@thinkpersonality.com
MARCH 1, 2005
Church Marketing Sucks
Provides Alternative Address
LOS ANGELES, Calif. – Church Marketing Sucks, the blog covering church marketing and communications, is providing an alternate address, www.churchmarketingstinks.com.
"We wanted to offer an alternative for Christian publications that have a policy against printing controversial language," says founder Brad Abare. "We wanted to help them get the word out to their readers who care about improving church marketing, but without watering down our message."
The alternative URL will bring web surfers to the same site, giving Christian publishers the chance to point readers to the valuable marketing tips and ideas found on Church Marketing Sucks without having to print a name that some find offensive.
"It's a tough call," says writer Kevin Hendricks. "My own mom doesn't like the word 'suck.' But I don't think words are inherently bad—profanity is culturally and contextually defined. And in today's culture and context, 'sucks' is no longer as offensive as it used to be."
While the word 'suck' is perfectly acceptable to many, some still consider it vulgar. The team behind Church Marketing Sucks acknowledges this and hopes that by offering an alternate web address they're giving an opportunity for some of those people to discover the deeper message of the site.
Church Marketing Sucks was recently referenced by Fox News and PR Weekly and will be featured in two upcoming articles from Christian publications due out this summer. Over 5,000 unique visitors per month are viewing the site and web surfers have responded in force, voicing their support of Church Marketing Sucks. One e-mail read, "I'm convinced that you folks are a thoughtful (and witty) bunch that really care about the messages the Body of Christ is sending to the culture."
Founded in 2004, Church Marketing Sucks is a free flowing conversation about church communications. The goal is to frustrate, educate and motivate the church to communicate, with uncompromising clarity, the truth of Jesus Christ. Visit www.ChurchMarketingSucks.com to join the conversation. For interviews or article ideas contact Brian Zopf.
###