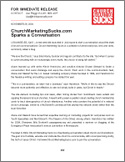 Happy Birthday! Today is the one-year anniversary of Church Marketing Sucks. You may have noticed a redesign as part of the festivities. We also sent out a press release chronicling our accomplishments in the past year.
It's been a crazy year and we're amazed at the response. Thank you for checking out the site, joining the conversation and spreading the word. We hope you enjoy the new look and the added features. And most of all, we hope God continues to work through churches as they tell the greatest story ever told.
FOR IMMEDIATE RELEASE
CONTACT: Brian Zopf 213-201-1800 x220
Brian@thinkpersonality.com
JULY 22, 2005
Church Marketing Sucks
Celebrates One Year Online
LOS ANGELES, Calif. – Church Marketing Sucks, the blog covering church marketing and communications, celebrates their one-year anniversary with a redesign and steadily rising traffic.
"The church has all the ingredients for connecting communities with Jesus" says founder Brad Abare, "but following the recipe is a whole different story. My prayer has been and continues to be that Church Marketing Sucks can serve church communicators with best practice and collaborative wisdom, all by the leading of the Holy Spirit."
In the past year the site has generated more than a quarter million visits and is on track to pass 50,000 visits per month in July. Church Marketing Sucks is the number one search result for "church marketing" on Google, Yahoo!, MSN and other search engines.
The site has been featured or the founders interviewed in a wide range of publications, including Ministries Today magazine, the humor publication The Door, and mainstream resources like Fox News, Search Engine Guide and PRWeek.
Church Marketing Sucks has posted more than 275 entries and received more than 600 comments and 300 e-mails in the past year. They've also been linked to by countless blogs and web sites.
"I love your site and what you guys are doing," read one e-mail. "Keep pushing people to strive for greatness and to not settle."
"We launched the site on July 22, 2004 and I'm humbled and amazed at the response only one year later," says writer Kevin D. Hendricks.
In celebration of their one year anniversary, the site has been redesigned and beefed up to include an e-mail newsletter, weekly polls, a peer review section and more.
Founded in 2004, Church Marketing Sucks is a free flowing conversation about church communications. The goal is to frustrate, educate and motivate the church to communicate, with uncompromising clarity, the truth of Jesus Christ. Visit www.ChurchMarketingSucks.com to join the conversation. For interviews or article ideas contact Brian Zopf.
###