Christmas is not what you expect.
The God that created all the galaxies and stars is born in dung and straw? We wouldn't have planned that. God could have pulled out all the stops and done something majestic. Instead he worked with what he had.
Christmas is the story of a virgin mother and an illegitimate baby. It's the original birth certificate conspiracy. Forget family values—the extended family rejected this 'true love didn't wait' pregnant bride and her husband-to-be. The holy family is homeless as the baby comes—no safe delivery room or experienced midwife. It's just Joseph cutting the cord while the rats look on. But the company gets better, as rank shepherds wander in asking to hold the baby. Instead of a baby shower with practical presents like a onesie, the new family gets a crowd of foreigners toting gifts more likely at a state dinner.
As if the story isn't bizarre enough, it continues with the family skipping the country and sneaking across the border, refugees from the genocidal slaughter of innocent children.
None of this is the Christmas story we expect.
We Celebrate Christmas Wrong
Yet we've turned it all into a saccharine scene depicted on Christmas cards. It's warm and cozy, softly-lit and you can't even smell the cow crap.
We celebrate this lowly, humble story with overabundance. We decorate our houses with dead trees and twinkling lights, crowd in the presents paid for with a payday loan, and put on a feast like we haven't seen since—well, last month at Thanksgiving. We go overboard and rub our Christmas belly in joyous regret.
It's like we're over-compensating for that whole manger thing. Sorry you didn't get a real crib, Jesus, but we'll spend every Christmas trying to make it up to you.
Sometimes the way we celebrate Christmas is weird.
Christmas Flips the Tables
The whole story of Christmas is like God flipping the tables on us. He takes our expectations and throws them in our face. Even when it's over, we still don't get it. We're always trying to polish the story, wipe away the dirt and grime. Just like we do with ourselves—always trying to be perfect.
As Rachel Held Evans says, "We could not become like God, so God became like us."
Throughout the Bible, God flips the script on us. John the Baptist called the holy men of the day a bunch of snakes. It might sound cathartic to call your pastor a snake, but imagine the reality of it. Jesus' opener was scandalous.
The expectations go on being up-ended. When somebody asks for your jacket, Jesus said to give your shirt too. When someone hits you, Jesus said to turn your cheek so they can hit you again. The first shall be last and the last shall be first. Jesus said to love your enemies. Not just the guy who cuts you off or that annoying coworker. Your enemies—Osama bin Laden, ISIS and (take your pick of politically opposite front runners…) Hillary Clinton or Donald Trump. And not just tolerate those folks, but love them.
Jesus literally flipped tables.
And all those shattered expectations culminate in the cross. That baby in the manger gets executed.
What kind of story is this?
What Do We Do With This Radical Christmas?
I hope it's starting to sink in just how crazy Christmas is. We all know this, but it's easy to forget. It's easy to let tradition wash over us and forget how God is constantly upsetting everything and leaving us unsettled and uncomfortable.
Christmas is radical. And not teenage slang, far out dude, radical—we're talking anarchist, living in a commune, kooky beard radical.
So what do our churches do with this radical Christmas? How can we flip tables and help people understand the holy mystery that is Jesus? How do we tap into the wonder that goes so far beyond Santa's magic sleigh?
Calling our well-dressed guests a bunch of snakes probably won't go over well. People like their Christmas traditions (so do I). But maybe we can still find ways to flip the script:
'God with us' is a radical notion in and of itself. The idea that one of the holy Trinity is going to slum it with us meat sacks just isn't normal. But the fact that he chose to reject the regal and be born in a backwater is even more bizarre.
This year let's remember just how radical Christmas is.
More: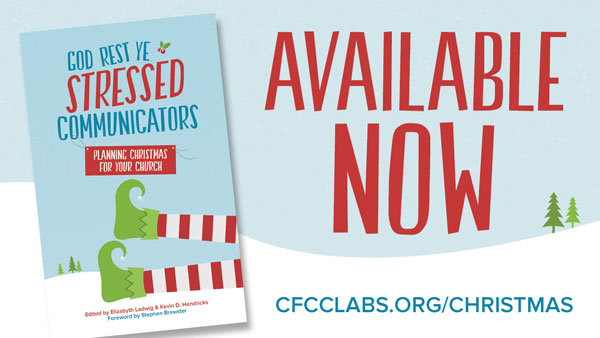 Photo by Martin Cathrae.