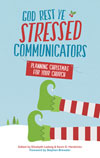 We've got a new book about Christmas coming out—God Rest Ye Stressed Communicators: Planning Christmas for Your Church—and in the spirit of the season, we want to give it away.
So welcome to our holly jolly Christmas contest. We want to hear about Christmas at your church, and you can win a free copy of God Rest Ye Stressed Communicators, releasing Oct. 5 (pre-order now!).
Christmas Traditions
I love Christmas. Decorating cookies, twinkling lights, a warm fire—and of course the incredible story of God coming down in human form. It's a season of stories, memories and tradition.
It's a special season for the church, too. We've got pageants and candles and service projects. Our pews are packed as we celebrate the birth of Jesus.
Some churches embrace tradition, while others bust out glow sticks and yodeling. What does your church do at Christmas? Why is Christmas different or special or awesome at your church?
We want to hear your story.
What Makes Christmas Special at Your Church?
Share your story to enter our Christmas contest. Submissions accepted through Oct. 2. Three lucky winners will receive a free print copy of God Rest Ye Stressed Communicators. U.S. only.
Note: This contest is now closed. Thanks for sharing your stories. Ho, ho, ho!
Winners: Congratulations to our randomly selected winners—David, Julie and Carrie.
More: