Last fall we started collecting Church Visitor Horror Stories to celebrate our book, Unwelcome: 50 Ways Churches Drive-Away First-Time Visitors by Jonathan Malm. It's been scary stuff. But hopefully we can learn to be more welcoming.
The Welcome Room
Recently I visited a very large church in Ohio. This church is my parents' home church, and while I have been there before, it has been several years.

I entered by myself and there weren't any greeters. I got the nod of strangers, but no one talked to me. I stood against a wall waiting for my family and was completely ignored, even though I couldn't have been a more obvious "lost visitor." My family finally showed up and someone did greet me as we walked into the service.

During the service, the pastor announced that any first-time visitors were encouraged to go across the lobby after the service and meet one of the pastors in the "Welcome Room" and receive a gift of one of their worship CDs.

On the way out I checked out the "Welcome Room." It was a small room with only one door and only two people standing around inside. Rather uninviting. I didn't stick around to see if anyone went in. –Bryan Donihue
What's the opposite of a VIP room?
The Solution
Having a specific room to welcome visitors is a step in the right direction. They're thinking about visitors. They're trying to welcome them. They even have a free gift.
Their heart is in the right place. But their execution is falling flat.
Why segregate guests and your welcoming committee into a lonely little room that's easily overlooked? Awkward!
Put your greeters at the doors and welcome people as they come in.
Never make a visitor hunt for a specific room. If you have a visitor center, make it impossible to miss. Put it front and center and have signs all over the place directing people to it.
You should work to integrate guests into the life of your church. Introduce them to people. Help them feel like a part of what's happening. Don't separate them from everything that's happening.
More: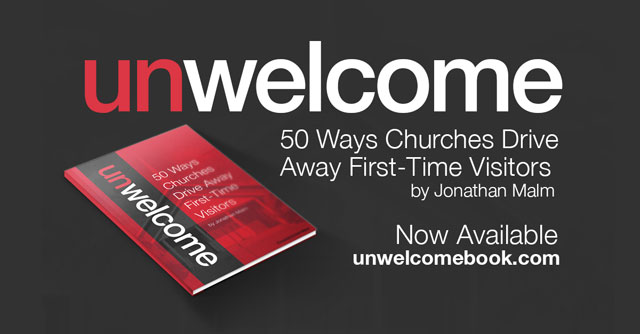 Photo by Tommy Clark.