We're launching a new contest in celebration of our upcoming book, Unwelcome: 50 Ways Churches Drive-Away First-Time Visitors by Jonathan Malm. Ready to get scary?
Walking into any new place can be a bit unsettling. But walking into some churches for the first time can be downright frightening. We want to hear your church visitor horror stories.
Just picture it…
Culled From the Herd
You pull into a church and are immediately segregated into your own secluded parking area. It's close to the building so it should be exciting, but it means you immediately have a large, barely invisible, sign on your head that says "I'm new here!" And we probably all have horrible childhood memories of being the "new kid."
Evil Eye
You walk into the building and, because you have that barely invisible sign, you are followed by an entourage of well-intentioned friendly people who want to hug you and give you a gift and hear your entire life story. Next thing you know the pastor is asking you to stand up if you are a visitor so everyone around you can shake your hand and you're wondering whatever happened to "stranger danger!"
Too Creepy
The service starts and you wonder if this church has developed their own language because you don't understand half of what's being said. But looking around you're the only one who appears to be confused.
Stalker?
You make it through the service and the pastor asks you to fill out a card with your name, address, phone number, birth date, children's names… you're wondering if you're visiting a church or applying for a job. But, bonus, if you turn that card in at the super duper guest center, you can get a free gift!
Trying So Hard It's Scary
Churches have the best of intentions. But too often those intentions don't translate and we're anything but welcoming. We're scary.
As we gear up for the launch of Unwelcome: 50 Ways Churches Drive Away First-Time Visitors on Oct. 27 (pre-order digital now), we want to hear your first-time visitor horror stories. Yes, they will most likely make us chuckle… and maybe even cringe… but we want to share these experiences in hopes that we can avoid repeating them in our own churches. 
The Church Visitor Horror Stories Contest
The contest is now closed. Thanks for playing (er, scaring).
Check out the frightening winners: Fired pastor, reserved seating and stalking the visitor.
More: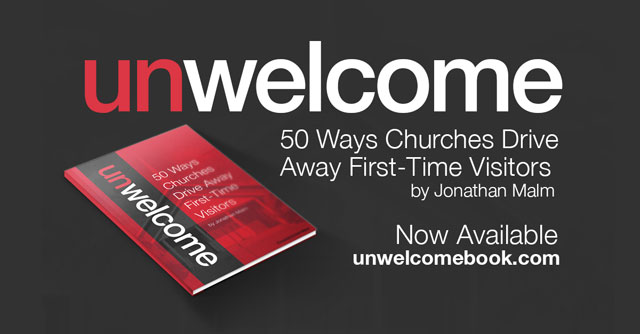 Photo by Tommy Clark.