Last fall we started collecting Church Visitor Horror Stories to celebrate our book, Unwelcome: 50 Ways Churches Drive-Away First-Time Visitors by Jonathan Malm. It's been scary stuff. But hopefully we can learn to be more welcoming.
The Greeter Fail
I went to visit a very well known megachurch and arrived about an hour before their service started. There weren't any ushers or welcoming team in their spots yet, but that didn't matter to me.

I went to the bathrooms in their lobby area and as soon as I came out the person who missed welcoming me was right there waiting at the bathroom door. She had been waiting for me to come out of the bathroom! –Caleb Hayworth
A greeter shook my hand and said, "You are a big man. How much do you weigh, anyway?" –James Ost
At one time we had a greeter who would stand at the door of the sanctuary and welcome people. This man stood 6-feet, 2-inches tall and weighed a good 450 pounds. He has been a part of the church for years and loves to give out hugs to friends and members of his small group.

But one Sunday he decided to greet a first-time visitor who held out her hand for a nice shake and a bulletin. He responded by telling her that our church doesn't do handshakes because we are "The Little Love Church" and we do hugs. He then proceeded to hug her, pulling her close and making far too much physical contact. Bless her heart she stayed for the whole service. –John Mark McKanna
The over-eager greeter can be just as oft-putting as a cold shoulder.
The Solution
Your welcome team or ushers need to be trained. Put together a How Not To Be Creepy 101 class.
Seriously. You might think it's obvious and people know this stuff, but you always have that one person who can't read body language or doesn't understand personal space or just has zero tact. You don't want those people as your welcoming committee.
Put a training together and filter out the over-eager greeters.
More: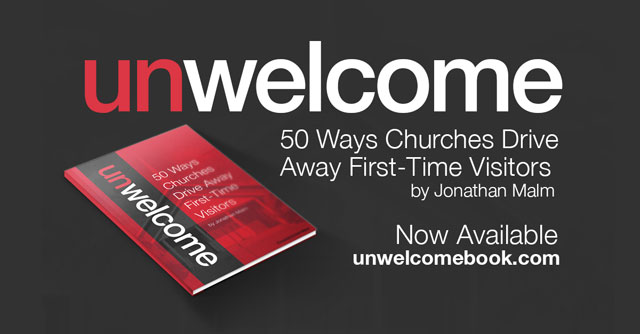 Photo by Tommy Clark.