For the past two weeks we've been asking for your Church Visitor Horror Stories. Yikes—scary stuff. We knew being a first-time visitor can be frightening, but we had no idea how horrifying your stories would be. Thanks for sharing your church visitor horror stories. We'll post the three winners this week with some expert advice.
It's all part of the launch festivities for our new book, Unwelcome: 50 Ways Churches Drive-Away First-Time Visitors. It's on sale this week only, so grab a copy today.
We already shared the story of the fired pastor. Now gather 'round for another spooky tale…
Horror Story Winner: Reserved Seating
We went to get to know our future son in law's family and go to church with them. We sat down and soon after, I noticed a lady standing in the aisle staring at me silently. I asked her half jokingly, "Did I get your seat?"

Without speaking or smiling, she nodded in the affirmative.

Once again I attempted humor. "Don't you just hate it when visitors don't know where they should sit?"

No response, no smile.

So I asked, "Would you like us to move?"

Finally a response: another "yes" nod of the head. So, we got up and moved and she sat down. -Randy Whitlow
Creepy. Nice job, Randy. Congrats! You'll be getting a signed copy of Unwelcome.
The Solution
We talk in Unwelcome about reserved seating. Generally, you should never tell someone where they can't sit. Instead, you should tell them where they can. Offer possibilities, not restrictions.
Unfortunately, that doesn't keep your congregation from reserving seats. And it doesn't necessarily keep them from feeling ownership of their favorite pew.
I see only two solutions to this horror story. There's the direct approach, then there's the sneaky approach.
The Direct Approach
The direct approach to solving this problem is just addressing it head-on. Paint a picture of what you expect from your church. Let them know that growth causes slight discomfort. Growing pains.
You could say: "You might come in one Sunday and see someone sitting in your favorite seat. You have two options. You can get indignant. Or you can get excited that new people are coming into the church. We have no room in our church for the former."
Ouch. Preach the truth! C'mon, saved seats? Are we in middle school? The reality is some church members have been sitting in their padded pew for far too long. They've forgotten the point of the gospel, that whole thing about bringing in the lost and then gathering together as a body of believers.
Most everyone says they want their church to grow. But many don't want to deal with the consequences of that growth. Change can be rough.
So paint a picture of what you're expecting (maybe a little gentler than what I said). Let your congregation know the consequences of that growth. But also let them know the consequences of not growing.
Healthy bodies grow. If you aren't bringing in new people, your church is in decline. It will eventually die with the current generation.
Give people the opportunity to be part of something that outlives themselves—something that's bigger than just one generation. Paint that picture for your congregation, and I believe they'll go along for the ride. (At least most of them. And if they don't, you've got bigger problems.)
The Sneaky Approach
The sneaky approach is to seat people proactively. Instead of simply hoping all your guests and congregation members find seats in your service, lead people to a seat as soon as they enter the worship center. Like ushers at a fancy performance.
Instruct your ushers to beckon people toward the front and show people where to sit. Don't force people to sit somewhere if they want to find their own seat. But most people are happy to be told where to sit. It gives them comfort to know they won't have trouble sitting where the usher sat them. They won't find themselves in a restricted row or in a section reserved for the choir.
If you start implementing this, you might get initial pushback from some of your old-timers—the folks who have been attending for a while. But eventually it becomes a feature of your service instead of a nuisance.
My Recommendation
I recommend you do both. Confront those seat savers directly and also be sneaky with ushers. By casting vision for what you're trying to accomplish, your congregation will more easily transition to the approach of proactively seating people.
You'll create a more inviting culture, which will trickle down into other areas as well. You'll even find people giving up other comforts in service of reaching new people.
And that's what you really want: A genuinely welcoming congregation.
More: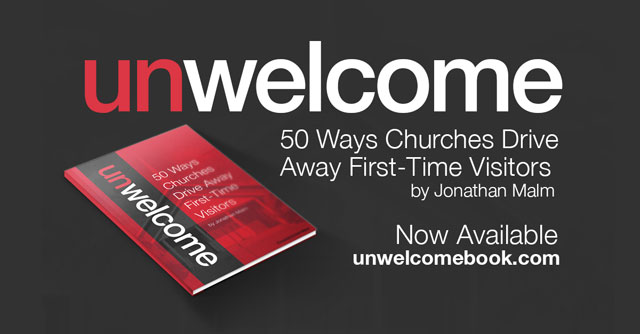 Photo by Tommy Clark.