Each year for Christmas, our sermon series addresses needs that people have during the holiday season. This year's series is called "Surviving Christmas" and will discuss stress, loneliness, salvation and reflecting on the past.
For the past couple of years, we have done guerrilla marketing to invite our regular attenders to our Christmas series and equip them to invite their friends, neighbors, family and coworkers. In years past, we have accomplished this by hand delivering a tin of cookies and popcorn boxes.
Survival Boxes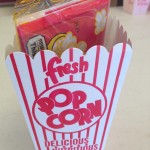 Given this year's theme, we are assembling survival boxes stamped with the "Surviving Christmas" logo.
Each boxes will contain a few items to aid people in Christmas survival:
Stress Ball
Starbucks VIA
Candy Canes
Ornament
Chocolate Chip Cookies
Multiple Invite Cards
Coloring Pages
Special Delivery
We make a point of home delivering each of the boxes. Here are a few reasons why:
Our open rate is almost 100%.
They promote our upcoming series.
It helps us to make a personal connection at the home of our regular attenders.
Invite cards also equip attendees to invite new guests.
Branded items can be conversation starters.
People talk about it. It's special, unique. We see social media posts skyrocket the days we delivery with a lot of people taking photos and sharing them of what they received.
More Christmas Ideas: