Christmas is long gone, but it's never too late to store up some ideas for next year. There are a lot of churches that had successful Christmas experiences this past December. We wanted to highlight a few of those in this Christmas roundup.
Marketing
Elevate Church – Morton, Ill.
Handed out 2,000 invites to attenders to give to their friends.
Put up two billboards in high traffic locations.
Had volunteers post invites with mini disco balls onto public bulletin boards: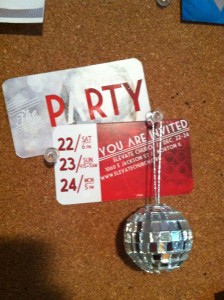 The Orchard Community – Aurora, Ill.
They went a more grassroots approach with using word of mouth, website and social media. No mailers. No invite cards.
They packed out all five of their Christmas Eve services.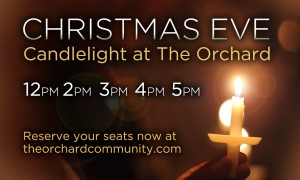 The Fields Church – Mattoon, Ill.
Created a float for local holiday parade and passed out packets of hot chocolate attached to invite cards.
Sent out a mass mailing to anyone that had attended in the past five years.
Hand delivered a dozen cookies and invite cards to 200 families that attend regularly inviting them, and encouraging them to invite others.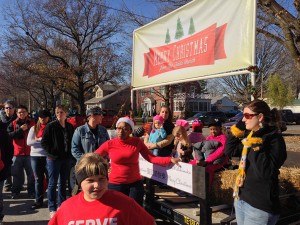 Rockford First – Rockford, Ill.
A Mass mailer 8.5″x5″ Postcard
4″x4″ Handout cards for church members
30 second radio spots
Evites from the dedicated webpage
4'x4′ signs road side signs
In house video announcements/slides
Produced a 25 minute short film for their annual TV special on local networks.
Experiences
AFC Church – Eagle River, Alaska
Held a pajama party for their Children's ministry with homemade ornaments and a VeggieTales movie.
Photo booth for families with a decorated backdrop, santa hats, antlers, lights, naughty/nice signs. And posted the photos on Facebook.
Northside Christian Church – Wadsworth, Ohio
As people came into the service they were handed a simple 2″x2″ brown box, a gift, and were asked to hold onto it until instructed to open it. Inside was a prepackaged communion wafer and juice. They wrapped up talking about God's perfect gift and asked everyone to open the gift and partake of communion together.
Pure Heart – Glendale, Ariz.
On Christmas Eve weekend, they trucked in 50 tons of snow for the kids to play in. They are in Arizona.
Design
Newbreak Church – San Diego, Calif.
Created a sub site for their Christmas Eve services.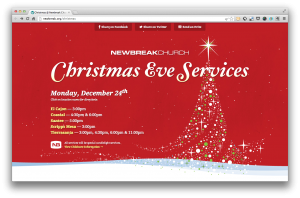 The Crossing – Chesterfield, Mo.
The Crossing in the St. Louis area had 21 Christmas services across three campuses themed "The Best-est Story Ever." They produced a mini-website and flyers to promote the services.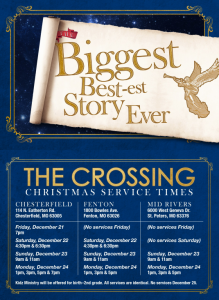 What cool ideas did you see this Christmas? We've got more stories in the Church Marketing Lab.
More Christmas Ideas: