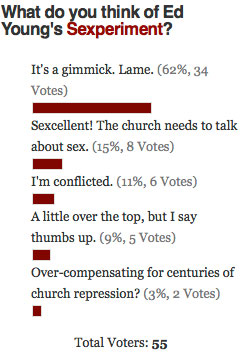 Ed Young recently spent 24 hours in bed with his wife on the roof of his church, all while streaming live on the Internet (well, he didn't make it the whole 24 hours). We asked your opinion of the great Sexperiment of 2012 and the results weren't so thrilled.
A full 62% called it a gimmick. Maybe climbing up on the roof was a bit, well, over the top.
Next came the 15% that were thrilled that the church was talking about sex. Another 9% thought it was too much but still gave it a thumbs up, which adds up to a full quarter of people who actually supported the stunt.
Another 11% couldn't decide.
In the end 'gimmick' is probably the nicest word we could give this effort. It might have sold books, but it feels like exploitation. And that's not something we need in the church or in a conversation about sex.