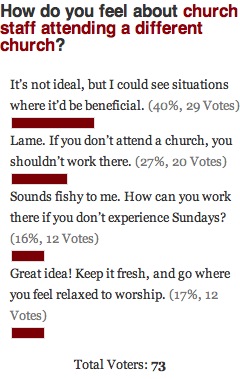 Recently, Brad Abare noticed a growing trend in church leadership: leaders who are choosing to attend churches where they aren't serving on staff. In the comments, opinions were mixed, and some great perspective was shared from those who have been on both sides of this issue. Which got us to thinking: how is this practice perceived overall? Well, here's what you had to say:
40% of you aren't convinced, but you're open-minded. It doesn't seem like the best situation, but you can certainly understand the need to decompress and just listen somewhere that you aren't serving.
The next biggest group of respondents aren't convinced. That's 27% of you who find the idea flat-out lame. You're staunchly in the corner that if your church is good enough for you to be on staff, it should be good enough for you to attend. And another 16% are right behind them. You're not ready to totally rule out the idea, but you're pretty doggone sure that something is rotten in the state of Denmark.
Lastly, a lonely 17% of you think it's a great idea to keep it fresh and stay worshipping somewhere you enjoy. Wherever you feel relaxed and replenished, that's where you should be—staffed or not.
In light of a little tournament that's currently going on, this week we're asking: Does your church use sporting events to draw a crowd?
Drop by the Church Marketing Sucks to let your vote be heard.