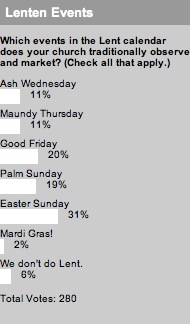 It's that time of year. "What time of year?" ask the Baptists. (I couldn't resist that joke, too easy.) It's Lent, or, according to Wikipedia:
"…the period of the liturgical year leading up to Easter. The traditional purpose of Lent is the preparation of the believer—through prayer, penitence, almsgiving and self-denial—for the annual commemoration during Holy Week of the Death and Resurrection of Jesus…"
So which events does your church observe? Here's what you had to say:
The most popular holiday of the season is Easter. Nearly a third of churches are observing and marketing some sort of Easter service. Honestly, I would have expected this number to be much higher.
Just shy of that, one in five churches are doing something for Good Friday–a drama, a candlelight service, a memorial, etc. But they're letting people know they should join them on the Friday before Easter to remember the death of Christ. And in a surprisingly strong showing, another fifth of your churches market their Palm Sunday service.
Next up? Ash Wednesday and Maundy Thursday. 11% of churches are advertising each of these events. We'd love to hear how you're telling people about the less-famous Lent observances. Is it just intra-church marketing? Or are you going out of your way to let the whole community know of these events?
Oh yeah, and the rest of you. 6% don't observe or market your Lenten festivities, while 2% only observe Mardi Gras. So let's hear it, how did you celebrate Mardi Gras? Or do you want to fess up for being a smart aleck?
It's about that time, so this week we want to know: Daylight Savings Time goes into effect this weekend. How will it impact your services?