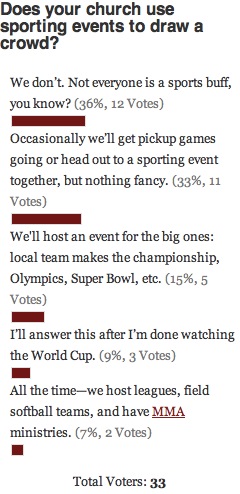 With the US Open wrapping up, the NBA Finals coming to a close  and the World Cup well under way, we thought it only appropriate to investigate how many churches out there are using sports in their marketing plan. And not just watching sports together. We cover it all:
36% of you skip out on the sports events altogether. Because hey, not everyone wants to get together and compete. You've got better, more edifying things to do with your time.
33% use sports as an occasion to get out rather than an occasion to come in. Your priority isn't watching the big game, it's getting out there and inviting people to have a great time together playing sports or going to games.
After that, about 15% of you host a party for the biggies that everyone cares about—Olympics, Super Bowl, etc. But you don't obsess over the day-to-day of sports in your marketing. Unlike the 9% of you who are sports crazy. You host leagues, throw watching events and use sports on a regular basis.
And finally, 9% of you were too busy waiting for a World Cup goal to think about an answer to this question. Carry on, but don't forget to drop back by in mid-July.
This week's poll is dedicated to all the dads out there: How did your church celebrate Father's Day this past week? Register your vote on our home page.