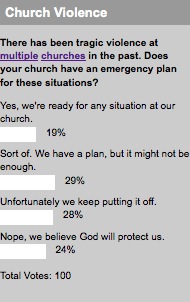 Is your church ready for the unthinkable? Unfortunately, church violence has happened more than once, with incidents making the news too often. So it's probably a pretty good idea to make sure your church is ready for the worst case scenario, but let's see if you are.
19% of you are ready for any situation. You've got a disaster manual in case of fire, violence or screaming babies, and nothing is going to throw you off your game.
29% of you are a little bit less sure. You've got a plan in place, but you're not sure everyone has a great grasp of it or that it's thorough enough for the worst of scenarios.
Another 28% of you keep putting it off, even though you plan to make one. Fortunately for your marketing, your name isn't published here, but it could bring great peace to some attenders knowing you already have a plan in place.
And a final 24% just believe God will protect you, and there's no need for a plan. Which is why you keep your money in a big stack on the altar and don't check the background or credentials of staff members, right?
Most of our articles, rants and discussions take a turn towards light-heartedness, but this isn't one of those times. This is a serious subject, and just as you have the responsibility to protect your finances, staff and vision, you have a charge to protect those who attend your church. We'd love to hear about some of your stories and plans in the comments.
This week, we're turning to Twitter. Do you support pastors encouraging attenders to use Twitter during services?