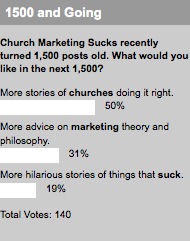 As we passed 1,500 posts on Church Marketing Sucks, we thought it was a great time to ask you, the reader, what you wanted to see more of in the next 1,500 posts. Looks like this is how posts 1,501-3,000 should break down:
The next 750 posts will be about churches doing it right. It looks like this is what you guys want the most. Keep your eyes peeled as we've got a couple of these coming up in the next week or so.
After that, we should run about 465 posts on marketing theory and philosophy. We'll count on our in-house guru Brad Abare for more great stuff in this category, like his story on the Heath Brothers yesterday.
And we'll round it out with 285 posts on church marketing that sucks. After all, we have to earn the right to keep our name, yes?
Let's get technical in this week's poll: Does your church ever consider their position in search engine rankings?