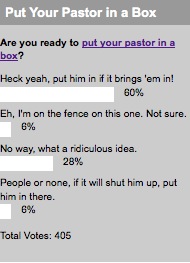 At the risk of igniting another comment firestorm, we asked you if you were ready to put your pastor in a box. In our earlier article, comments ranged from thought-provoking and well-intentioned to simplistic and pugnacious. Hopefully, things will stay nice here as we visit this subject once more.
6% of you are sitting on the fence. You're not sure exactly what you think of this, and we'd love to know if you're still there or if the comments on the entry have swayed you.
Another 6% of you are willing to do anything to shut your pastor up, including putting him in a box. We won't tell your pastors you said so.
Just over a quarter of you think this idea is a ridiculous joke. It crossed some sort of line, and you aren't ready to cross it with them. Perhaps you have a well-thought response to explain yourself, or maybe it just feels wrong.
And the winners are … the 60% of you who give a resounding yes to boxing pastors, so long as it brings people in the doors. You're big fans of going the extra mile and doing whatever it takes to expose people to the gospel–a noble goal indeed.
This week, we'll be a bit more tame by asking: Which Holy Week holidays does your church observe?