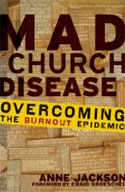 A long time ago in a post far, far away we interviewed author and Church Marketing Sucks guest blogger Anne Jackson about her church burnout project, Mad Church Disease. At the time (July 2007) it was just a web site to start the conversation and begin writing a book. Now that book is available: Mad Church Disease: Overcoming the Burnout Epidemic (well, it'll be out February 1–close enough).
This book is for church staffers and volunteers who are at the end of their rope or might be there soon. Paradoxically, churches can be wonderful places to have your life transformed, but terrible places to work. Something about doing ministry professionally makes people think it's OK to sacrifice your family, your free time, your health or even your soul.

Mad Church Disease explores this sickly phenomena and offers hope and help. This issue is deadly serious and important, but it's not brain surgery. The book is fairly short and accessible and offers the needed prescription for change, but more than anything it offers awareness. Simply getting people to talk about this problem is a giant leap towards a cure, and this book offers a nice push forward.
Any church pastor or staff member should check it out. After all, you can't expect to communicate the greatest story ever told if you're working your staff to death.
Author Says…
Anne Jackson is a bit busier these days, but we did get the opportunity to ask her one question about burnout:
Church marketing seems to pair two fields that have a problem with burnout–ministry and communications. What can churches do to ensure that they still have effective marketing and communications but aren't burning out their people?
Anne Jackson: Not to scare anyone, but I was in the role of Director of Communications & Media when I landed myself in the hospital. This book was kind of born out of that experience. So you are absolutely right! It's like a double whammy.
The more and more I learn about ministry and marketing, the more I am realizing a church can't departmentalize it down solely to a "communications team" or a "marketing team." Should there be people leading with gifts in those areas? Absolutely. Are they the only people marketing? No way.
I think it's easy for some churches (and please pardon me if this is too much of a generalization) to be full of silos. Each ministry is its own identity and then they each rely on the communications department to make those ministries "look good." Sure, you may have a wonderfully designed and clear print piece about your children's ministry, but if that ministry is dysfunctional, your pretty little piece isn't going to help.
The dysfunction of these silos, coupled with the demand for a communications department to make everything look perfect is only going to cause stress and conflict and could easily, over time, lead to staff burnout (in all areas!).
We have to be honest within our teams. I remember one time being asked to design a mailer for a church for a new campus launch. The church was in transition and wasn't very healthy, yet they wanted their mailer to show happy people worshipping on a big stage with all the bells and whistles. The campus it was representing was in a small movie theatre and was completely a portable church model and didn't have those bells and whistles. There was such a contrast between what the church actually was and what they wanted to portray that I chose not to design the piece for them (and lost the job as a result).
The bottom line is, as communication professionals, we have to model integrity in our work. As a former communications professional, I realize that you're probably laughing right now because more than likely, your boss just wants you to do what he or she tells you to do. Now, don't be negative, but do be honest with them about your concerns. Yes, to play the extremist, it may cost you your job or your reputation, but please realize those things are not your provision. God is and as easy as that sounds the only way you can live the full and abundant life he wants you to is by not compromising.
You're required to be a holy and living sacrifice, not to sacrifice your integrity. And who knows? Maybe living out an honest example in humility just may be the change your church needs to see to begin to be healthy.
Thanks Anne.