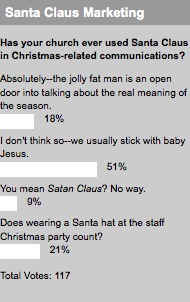 As Santa Claus was flying through your neighborhood to deliver the latest and greatest goods, we were curious how many of your churches have used the jolly fat guy in your marketing.
It looks like most of you shy away from the modern update on Saint Nicholas. Over half of you stick to tiny baby Jesus and away from the overgrown Santa Claus. And another 9% of you go even further to call him Satan Claus. Overbearing Grinches? Christmas re-thinkers? A new offshoot of Christianity with an aversion to the color red? There's no telling why you hate Santa, but surely you have a good reason.
18% of you invite Santa in anytime and see him as an opening to talk about the real meaning of Christmas. While another 21% of you invite him in, but only in the format of something small — a Santa hat or a "Ho Ho Ho!" from the pulpit, perhaps. You like good ol' St. Nick, but only in limited doses.
This week, we're looking to find out: What would you most like the Center for Church Communication to give you next Christmas?