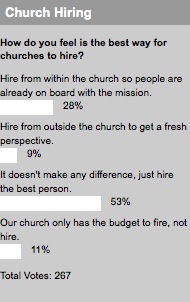 Who should we hire? That's a problem churches run in to all the time as they grow. But how to hire isn't a question with an answer that's readily available. And hiring the right person can be a cornerstone of your marketing strategy.
53% of you feel that it doesn't matter where your church gets someone from, it just needs to get the best possible person. You don't care if they're a lifetime church member or if they're from the county jail.
28% of you are strong believers in hiring from within. You think it's a lot simpler to hire from within so you can properly vet new hires and shorten the process of them catching your vision. But it really shrinks your talent pool.
A meager 9% of you think hiring from outside is the best bet. There are seven billion people in the world, and you think there might be a factory worker in China with the gifting and ability to be the best possible worship leader at your church. There's nothing wrong with that.
And a final 11% of you are in churches who only have the budget to fire, not hire. Well, should you end up on the losing end of that deal, we'd have to recommend the Job Lab and Freelance Lab for you.
This week, let us know what you think of the Church Marketing Lab. RSS folks can click on through to the main site and vote in the right sidebar.