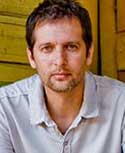 Tony Morgan, chief strategic officer at NewSpring Church in Anderson, S.C., co-author of the Simply Strategic Series, former pastor at Granger Community Church and author of the soon-to-be-released Killing Cockroaches (and we've interviewed Tony and linked to him on dozens of occasions), says that marketing is evil and your church should stop.
So what is Tony talking about? Essentially, he says ministry trumps marketing. If we try to fix the church's problems with marketing, we're going to fail:
"Direct mail won't fix your problem. Billboards won't fix your problem. Neither will platform announcements or bulletin ads or bumper stickers. At some point marketing may be a good option, but until you answer the right questions, marketing could be what's preventing your success.

If your church has stopped growing, marketing is not your solution. If you have stopped seeing life change, marketing is not the answer."
And to that, we say amen.
But as much as we love Tony, he's a little off base.

What is Marketing?
First off, marketing is a tool. It's inherently neither good nor bad, it all depends on how you use it.
Secondly, marketing happens. Even if you say you don't do marketing, you do marketing. Tony's web site, by the way, is full of marketing. The way he pitched this, throwing out a teaser one week and then the explanation the next? Yeah, that's marketing (though not very good marketing ).
Thirdly, marketing is not simply promotion. And this is really where Tony gets off base. He talks about marketing as though it's only direct mail, billboards, web sites, etc. But he misses the bigger picture, that the real work of marketing happens long before you open up Photoshop and long before you even decide to do that fancy new campaign.
Marketing is all about making those big picture decisions about how you're going to communicate your message. That component of marketing is too often skipped over by churches (and everyone else). When Tony says we should stop marketing, he doesn't seem to be talking about this aspect of marketing. In fact, he seems to be encouraging this type of big picture thinking.
We can forgive Tony for confusing the issue of marketing because he ultimately gets it right (and we forgive him for telling people to stop reading this blog).
You can't rely on low-level tactics like postcards or videos to grow your church. Marketing is a lot more than that, and to be effective it has to be a lot more than that. And frankly the message of the gospel deserves a lot more than that.
So is Tony Morgan Right?
Sort of. We'll give him points for effort:
Is marketing evil?
No. But it can certainly be done poorly and in a way that deceives and corrupts people. That's not cool. But it can also be done well.
Should churches stop marketing?
No. You can't stop marketing. But it might make sense to put some of your promotions and tactics on hold and rethink your bigger strategy. Get back to the basics. But that doesn't mean you stopped marketing. If anything, it means you're doing smarter marketing.