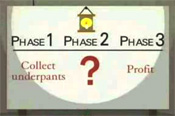 When someone from my team e-mailed me this South Park clip, I knew this would both incite and resonate with so many well-intentioned church leaders. The 37-second clip is a picture-perfect representation of how so many of us approach planning and strategy, especially when it comes to marketing and communication.
First: Let's make a cool video.
Second: ?
Third: God is glorified.
But wait, that second phase was skipped, which should really be the first phase. What is the purpose of the video, brochure, web site or special event? What are you going to do with it? How does it serve your purpose? What if you shouldn't be making a video at all? I would also argue that the third phase should be specific, actionable and measurable. "Profit" or "glorifying God" are not only a given, they're not any different from anybody else.
It's time we stop collecting underpants and instead figure out why we'd ever need to collect them in the first place.